How to Do a Perfect French Kiss – Step by Step Guide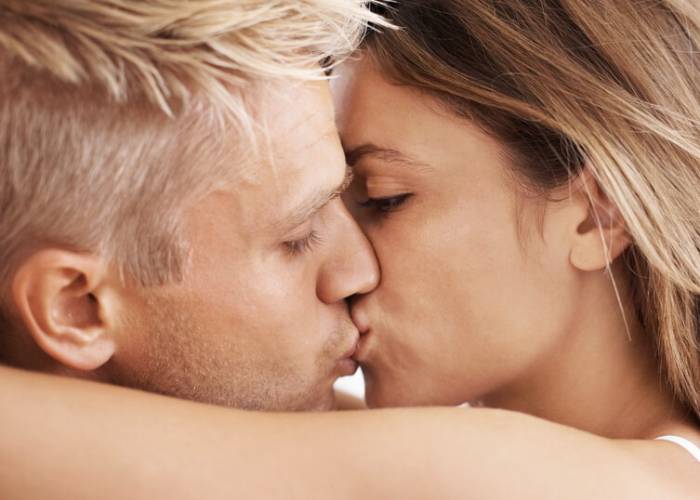 It is so amazing to kiss someone you like. It's such a wonderful feeling when you melt into your loved one, forgetting about everything else. So how to make it right? Learn these practical tips on how to kiss using your tongue. Bonus advice is how to understand she is ready for it.
French kissing techniques for you and your girlfriend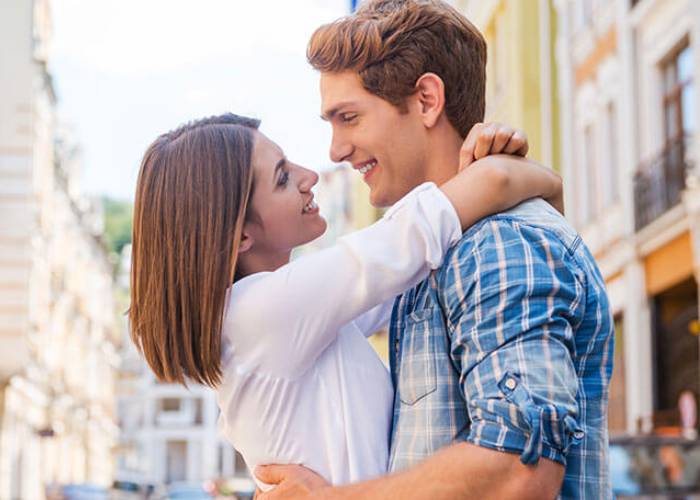 Make it soft
Make sure the state of your lips is soft enough. It is not very pleasant to kiss dry or chapped lips. So if you want to make your kiss feel unbelievable, make the lips soft and well moisturized. By the way, dry lips can be a sign of inner dehydration. Drink more clean water (not juices, tea, or coffee). If you have a date and your lips are chapped, use a chopstick or a balm. Girls can apply some gloss. But do it before the big kiss. Your partner should feel the amazing taste of your lips and not the makeup on them. If you are about to kiss and you have no time to prepare, just lick your lips. Lick them while looking right into her eyes to seduce her. This trick will turn on your date and remove your little trouble.
Keep it fresh
Dental hygiene is critical even when you aren't going to French kiss in a minute. But if you are so lucky, make sure you have fresh breath. Brush your teeth properly before going out on a date, or at least rinse them out with clean water. Try to avoid bad-smelling foods like garlic, onion, pepper, and fish. Another emergency tool to freshen your breath up is a menthol mint or chewing gum. Visit a restroom and use your menthol mints for a minute. Better do it in private to hide this preparation.
Look into her eyes
All the right kisses start with eye contact. Just look into your date's eyes, make your gaze long and deep. Then look down to her lips, then back to her eyes. When we like someone or something, our eye pupils enlarge. You can move your gaze through your date's face and body or even bite your lower lip.
Keep smiling
Though it can be your first French kiss and you might be a bit worried about it, don't forget to smile. People are happy when they feel good with a person they like. It is especially nice to smile while kissing when you still feel your partner's lips. Or you can smile with teeth, but make sure your smile looks natural.
Don't be afraid to touch her
Make your partner get used to your touches and break the touch barrier. It is not easy to do, but it should be done before kissing.
If it's easier for you, you can start with touches only. Take her hand, stroke her arm, shoulder, or knee. There are some especially sensitive places on a female body like hands, neck, butt, or back. You can use stroke carefully her legs or back while she is sitting on your lap.
It's time to get closer
You feel it's a time to move your body closer to hers. Make it slow to give her a chance to withdraw if she doesn't feel the same (hopefully not). Slow moves increase the intimate moment's tension and passion and allow her to get used to each other.
Focus on your date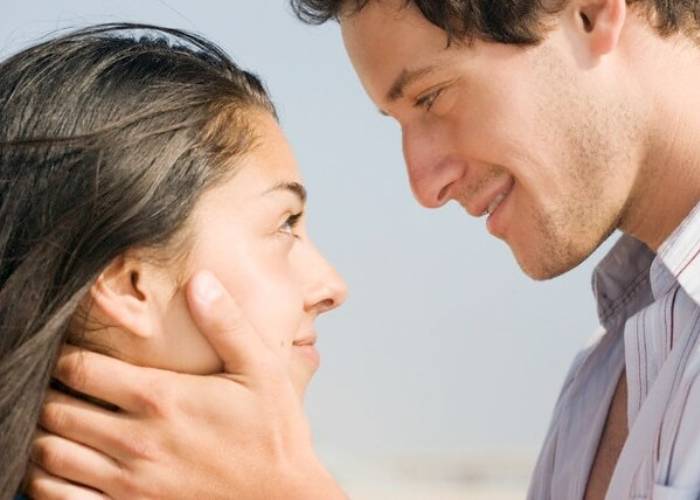 The next step in a French kisses method is to tilt your heads slowly so you would not bump your noses. Close your eyes when you feel your partner's lips on your mouth. Keeping your eyes shut helps you focus on the moment and on the person you are kissing with. There could be many distracting things around you two. You can even stand in the crowd full of noises. So close your eyes so as not to let anyone ruin the magic of the moment. Open your mouth slightly to let your date's tongue get inside it.
First kisses
They have to be under very light pressure. Like you, just stroke your date's lips with yours. Act very slowly because such kisses have a much higher level of intimacy than quick ones.
And finally, how to kiss your girl with your tongue
When you understand both of you like to kiss each other, move forward and open your mouth a little wider. Stroke her tongue with yours gently. Don't act too aggressively, especially if it is your first experience of kissing with that person. You have to feel if your partner responds to your attempt at such a kiss. If she likes it, she will allow you to continue. If not – she can even move her head to stop. Don't be upset, and it just means she is not ready. So be patient and just wait until the next time.
More tips for your amazing tongue kissing: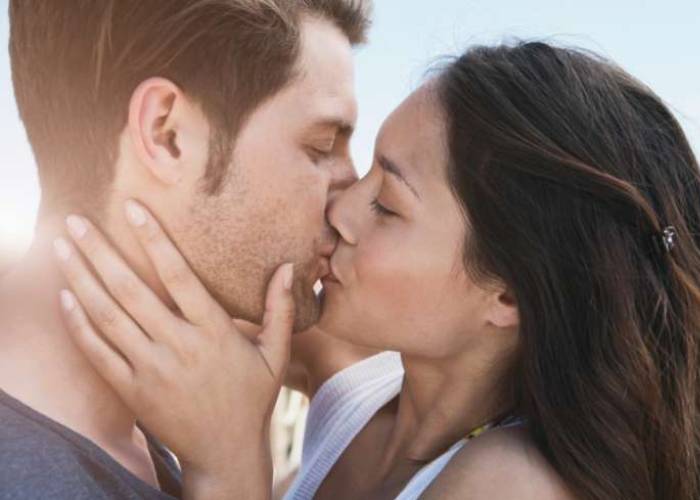 When to kiss with tongue
It feels amazing to kiss someone like that. It's a culmination when both of you can't wait and get more intimate. But how to understand when it is the right time to do so? Here is the advice to help you.
You are alone with the person you wish to kiss. There is no one around you who could stop you from enjoying the moment.
Both of you have to be happy, calm, and in a romantic mood.
Your partner is trying to sit very close to you, staring at your lips and looking deep into your eyes. Maybe, there will be an awkward situation when you don't know what to talk about anymore because you want to kiss and not to talk. And the level of tension is extremely high.
Your date is about to end; everything was really good, and you really enjoyed spending time with each other. You can kiss with tongues in a car or close to your door.
It feels just right to move this far with no explanation why.
Follow these tips and follow your heart and body to lead you on and get some experience!
Why Do Men not Like Kisses on the Lips? How to Help Him Love Kissing?
Are you in a relationship with a man who doesn't like kissing? This is not so common, but there are still men who find kissing unpleasant. Can you help your partner and teach him to enjoy kissing? Why doesn't a man like to kiss?
Reasons Why a Man May Not Like Kissing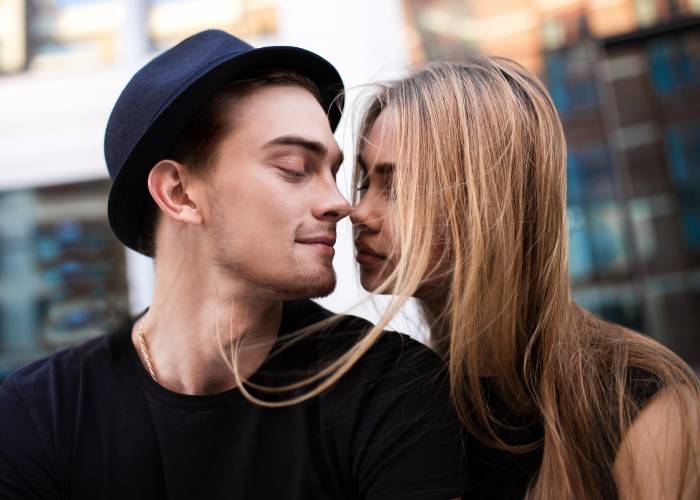 As a teenager, the boy could receive many inept kisses, which he now recalls as "unpleasant." Some movies form in children the idea that "adult" kisses are always deep, vulgar, and aggressive. It is with such kisses that many teenagers begin their experience in affection. Too much saliva, teeth are clashing, strong bites, a tongue that is pushed far into the throat, and no pleasure - that is what can remain in the memory after the first unpleasant kiss. It's no surprise that someone won't want to try it again.
Too dirty kisses in the past - be it a lot of salivae, bad breath, or plaque on the teeth - can cause kissing aversion in both women and men. In this case, a man may find this affection pleasant, but all the accompanying physiological phenomena will be repulsive to him.
Besides, a man may avoid kissing if someone has teased his skills in the past. Tried to hurt, accusing him of not knowing how to kiss, or used it as one reason for the breakup. A man may be afraid that kisses with him will not like you, ruin your impression of him, and may even cause a break in relations.
Perhaps the man had a bad experience in the darkest sense of the word: once, he had to endure the kisses of a person who is unpleasant to him, and now this affection simply cannot cause him positive emotions.
Are there other reasons why a man doesn't like kissing? Yes, although there are not many of them. For example, some people find kissing more intimate than intercourse. If you are dating for lovemaking but are not in a romantic relationship, a man may avoid kissing because he needs a certain amount of emotional intimacy for it.
You can always ask your partner directly about the reasons, but most likely, the man does not like kissing because he had a bad or unpleasant experience in the past.
How to Help a Man Love a Kiss?
It can be difficult to be in a relationship with a man who doesn't like kissing. Kissing can help establish and strengthen an emotional bond between partners and diversify your lovemaking life. Kissing helps you communicate that you admire and care for your partner and helps your partner feel loved and desired, and vice versa. Finally, kissing is just very pleasant: there are many sensitive nerve endings on the lips.
What if you enjoy kissing but are dating a man who doesn't want to kiss? Can you make him love kisses? The answer is yes, you can. Several tricks can help you with this.
Try using lipstick or gloss
The right lipstick and lip gloss can do wonders for making lips look more attractive in a man's eyes. Ask your guy what he thinks of your usual color palette. Perhaps this shade of red repels him, not attracts him.
Usually, psychologists advise against changing your appearance just to please your partner: this can make the relationship unhealthy. But this time, the initiative will come from you, and you will have a specific goal: to help a man love kisses. Try this if you don't mind updating your makeup bag.
Start with a simple touch of the lips
Be prepared: it will take you a long time to show a man that kissing is great. Start with short, shallow kisses that involve only the lips. Let the first touch be superficial and dry, completely without saliva. Then you can move on: Open your mouth, grip and bite your lips easily, slide the tip of your tongue over them.
When a man is comfortable with such kisses, you can deepen them: touch your teeth with your tongue, collide with your tongues and pull his tongue into your mouth, suck your lips harder. Deepen your kisses slowly, watch the amount of saliva, and you will be fine.
Take care of your lips with gentle scrubs and hygienic lipstick. Keep your lips hydrated and soft without cracks or dead skin.
Practice good oral hygiene. Use whitening toothpaste or visit your dentist to keep your teeth healthy and aesthetic. Try a rubber-coated toothbrush to clean your tongue. Use mouthwash or chewing gum before offering kissing to your partner. Try asking your partner to do the same: kissing is especially pleasant if both participants have fresh breath.
Avoid foods that cause bad breath
Try not to eat foods with a strong smell before kissing: onions, garlic, fish, and so on. Simply brushing your teeth will not remove their strong specific scent. If you smoke, try breath freshening sprays. If your partner also smokes, buy a spray that tastes you both like and suggest using it together before kissing.
If a man avoids kissing because of self-doubt, this will solve the problem. But even if it's not about skills, a man will still be pleased to hear it. Perhaps he will want to kiss you to please and please you, and over time he will start to enjoy it.
For most men, one or all of these will work, but some men won't love kissing despite your best efforts. Remember that this does not make any of you bad. Even if you are a great kisser and enjoyable to kiss, past negative experiences can make it difficult for a man to enjoy even good kisses. Sometimes there is nothing you can do about it. If the lack of kissing prevents you from enjoying your lovemaking life and relationships, and you can't find a compromise with a man, you can either leave everything as it is or think about finding a new partner.

I am a part computer algorithm, part real relationship expert, who can give advice on everything regarding relationships.
Join Now
Sign up for free!
By clicking the submit button above you expressly consent to our
Privacy policy
including use of profiling to find you matches and you agree to our
Terms of use
, and to receive newsletters, account updates, offers sent by
CupidDates